Goodies


The samples which I had already been offered on this site are now organized in a sound bank for the well known Steinberg VST Plugin LM4 Mk II. The result is a collection of 18 kits through all generations of Simmons gear. This bank combined with the LM4 is an easy way to get access to Simmons sounds via midi.

This sound bank might be updated/extended from time to time. Changes are documented in the changelog.

With some effort these sounds can also be imported in any sampler, the bank contains all drum samples as standard high resolution 16Bit/44.1 kHz WAVE files.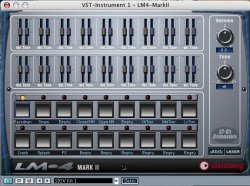 Of course like all the other stuff on this site the download is unlimited and free. My target is only to keep these sounds alive knowing that there are enough nerds out there who will love it. Those of you who like to use the samples in a productive environment: I would really appreciate to receive an MP3 of you final results :-)
This sound bank was developped under Mac OSX with LM4 MkII under Steinberg Cubase. It is supposed to work under Windows too and on other sequencing programs that support VST plugins (like Logic etc....)
Have fun!